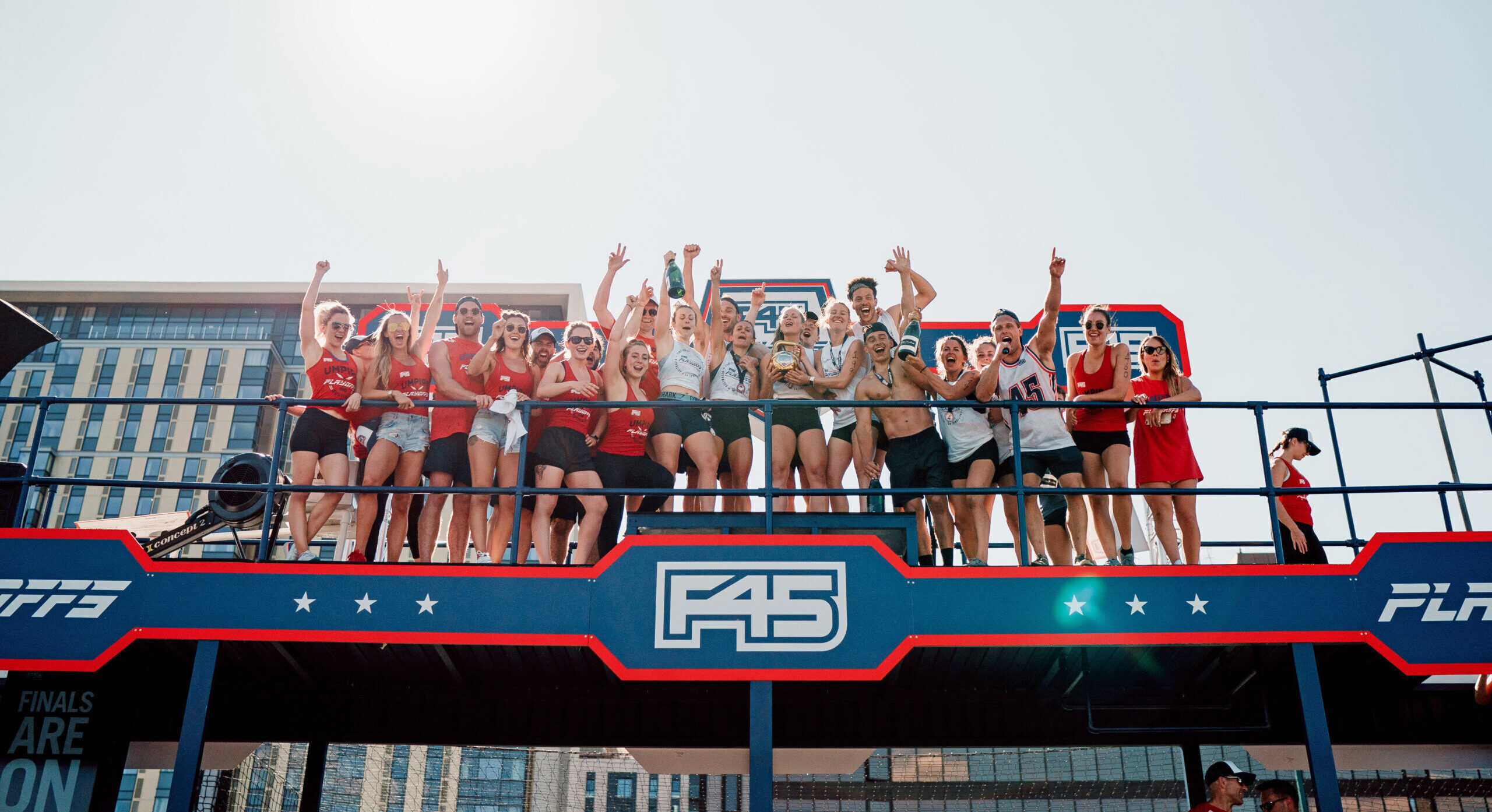 F45 Training is all about community- both in and out of the studio. We appreciate that our fitness community extends far beyond the four walls of each studio, and this gives us a major competitive advantage against other companies in the fitness game.
F45 hosts a bunch of global outdoor events including the F45 Playoffs and F45 Track which aim to engage members, studio owners and the public. These events are great for connecting with your F45 community, spreading brand awareness and showing non-F45's what we are about! Every year we make these events bigger and better, and after the last 2 years of global fun being put 'on hold', we already see this year being put in hyperdrive.
If you haven't had a chance to check out F45 Playoffs and Track in person yet, here's what you can expect:
F45 PLAYOFFS: F45 Playoffs is a functional, total-body strength, agility and cardiovascular trial that tests individuals equally on all four disciplines and has become the benchmark for global fitness testing. We have F45 playoff rigs (image) all over the world and they will be in full action in 2022- so stay tuned.
F45 TRACK: A 45-minute outdoor training session that offers both the public and F45'ers a variation of in-studio sessions. F45 Track events have historically been held across all states in Australia and in New Zealand, but the event has been so successful we have taken it global- now being held on all ends of the earth from the UK, Asian, the Middle East and Europe. It's also been hosted by our F45 College studio campuses and typically lead by our main man, the guy on the F45 screens, Cory George.
F45 Playoffs and Track are great assets for franchisees. The more fun they are, the more brand elevation heightens your appeal to potential members, which in turn leads to more sales and projected growth. The strongest and most profitable franchises know that success is about more than just the bottom line—it's about creating a long-lasting relationship that touches every aspect of the customer journey. F45 Track and Playoffs are just two great examples of F45 Training franchisee engagement, and we encourage you to take part when we hold an event in your area!
These events are not just fun sessions for members, but a great way for current and potential franchisees to get a taste of what F45 Training is all about. We encourage all F45 trainers, studio managers, and franchisees to turn up to the events, or even better, to participate. By doing so, it adds a personal touch that helps each franchisee succeed in his or her city or community. Active community involvement is one of the best ways to personalise your franchise, see increased brand loyalty from members, and support the greater F45 brand.
We've got a bunch of new events coming out this year and we can't wait to release these shortly! STAY TUNED!
Want to be part of our community? Been on the fence about owning your own F45 studio? Get in touch!