We are excited to announce that the very first studio will be opening shortly in Gothenburg, Sweden! F45 Järntorget is not only the first studio to launch in Sweden, but in fact, the first to open in the whole of Scandinavia! We are excited to see the brand roll out in a whole new market and see the concept expand further across Europe.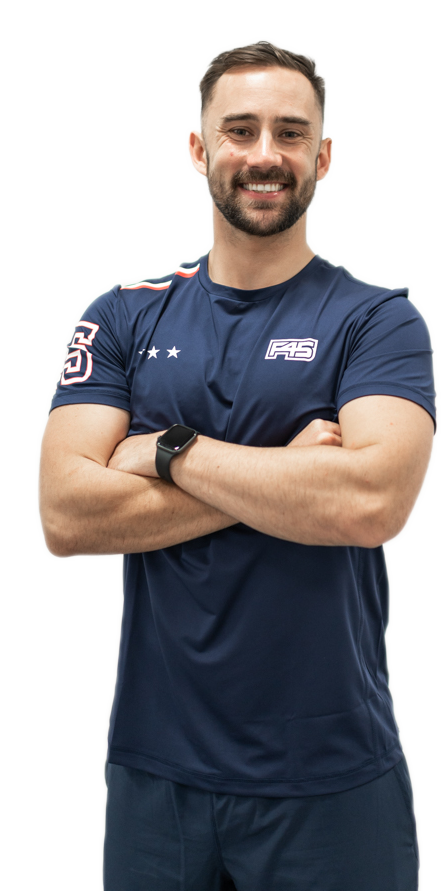 We caught up with studio owners Jay and Gareth recently and got the down-low on why Sweden was on their radar, and how the brand is being received by the market so far. Even though Jay and Gareth come from very different backgrounds before F45, they are joining forces and utilising skills from previous careers to open the very first studio in Gothenburg.
We look forward to cutting the red tape with the guy's next month in April, but in the meantime lets get some insight on their F45 journey so far!
What made you want to launch F45 Training in Sweden?
Gareth: I was based in Scandinavia for about 10 years and have spent a lot of dark nights running or hitting the gym alone with my headphones on. It can be really isolating. I always found the Swedes so friendly, polite and genuinely interested and open to global cultures. In addition, Scandinavian systems are based on the idea that the community should take care of each other. I'm surprised F45 didn't come from Sweden.
Jay (Pictured): Sweden was my first choice to open an F45 studio as this is where my Fiancé is from. The idea of bringing an amazing franchise to Sweden, where the market has never seen F45 before excites me. We have the chance to pioneer the brand in a whole new market. F45 brings an amazing community and buzz with it, and I feel the Swedish people will fall in love with the brand.
How has the Swedish market taken to the brand so far; going off their reaction to your pre-open marketing efforts for F45 Järntorget?
Gareth: The brand and concept is new to the country so there is more leg work needed on our side to show people how awesome this is going to be. We're about 8 weeks from grand opening and there is loads of interest.
Jay: At the moment we are kind of holding ourselves back a bit until we're about 4 weeks out so the hype train leaves the station at just the right time. We have some epic plans in store for April.
What strategies/ tactics have you used to build the F45 hype up in a new market?
Gareth: We are engaging in traditional marketing, giveaways and pedestrian walks. We're also hiring a massive LED board to be driven around town blaring out an F45 video. On the Instagram side some of our reels get over 20k views! To be honest we are so in love with this brand and know how good this will be for the Gothenburg community that we are doing whatever feels fun. We want to engage with people is a fun and positive way. The crazier the idea, the better.
When are you expecting to have your studio grand opening?
Gareth: In about 8 weeks! We have the 30th of April pencilled in for our Grand Opening. Sweden's first F45 will be in the home of the largest half marathon in the world Gothenburg. So, we're in the right place!
What made you want to open an F45 studio?
Gareth: I have been working out for years, running, cycling, boxing. I've had multiple personal trainers over the years. Many are well trained but it's kind of like going to confession or the doctor needing to apologise for that week's burrito. F45 is completely different. It's a vibrant community of ordinary people who want to get results in a judgement free environment. The trainer's high-five you as you walk through the door and genuinely care about your fitness journey. I was previously a member at an F45 in Dubai and loved the style of training. The classes are fun, always changing, full of music and hectic. You walk out of there buzzing. F45 is awesome because of how it makes you feel, and what's more powerful than that.
Jay: I wanted to open an F45 studio as I've been an F45 trainer for the past 2 years and have fallen in love with the brand. Everything F45 stands for is exactly who I am. The opportunity to open a studio and start a career/ business that doesn't actually feel like work is amazing. It's just a fun environment and I get to be around amazing people on a daily basis.
What did you do before F45?
Jay: Before F45 I was an electrician, but after a while I realised that my real passion lies in health and fitness- this might have had some influence from my mum who is a naturopath. I came across F45 and loved the concept and the unique way of training. I will be F45 Järntorget's full time General Manager, more front of house. Gareth's role in the business will be as a primary investor to offer counsel and guidance from a more strategic lens.
Gareth: I'm still employed elsewhere actually. I have 20 years in corporate finance and am currently a CFO so some of that experience is useful. But I'm really enjoying flexing my creative side with the marketing and culture building aspect. Jay and I are going to build something pretty special in Sweden.
Want to bring F45 to your community? Get in touch!
Check out the amazing work the team at F45 Järntorget have done so far- F45_Training_Jarntorget