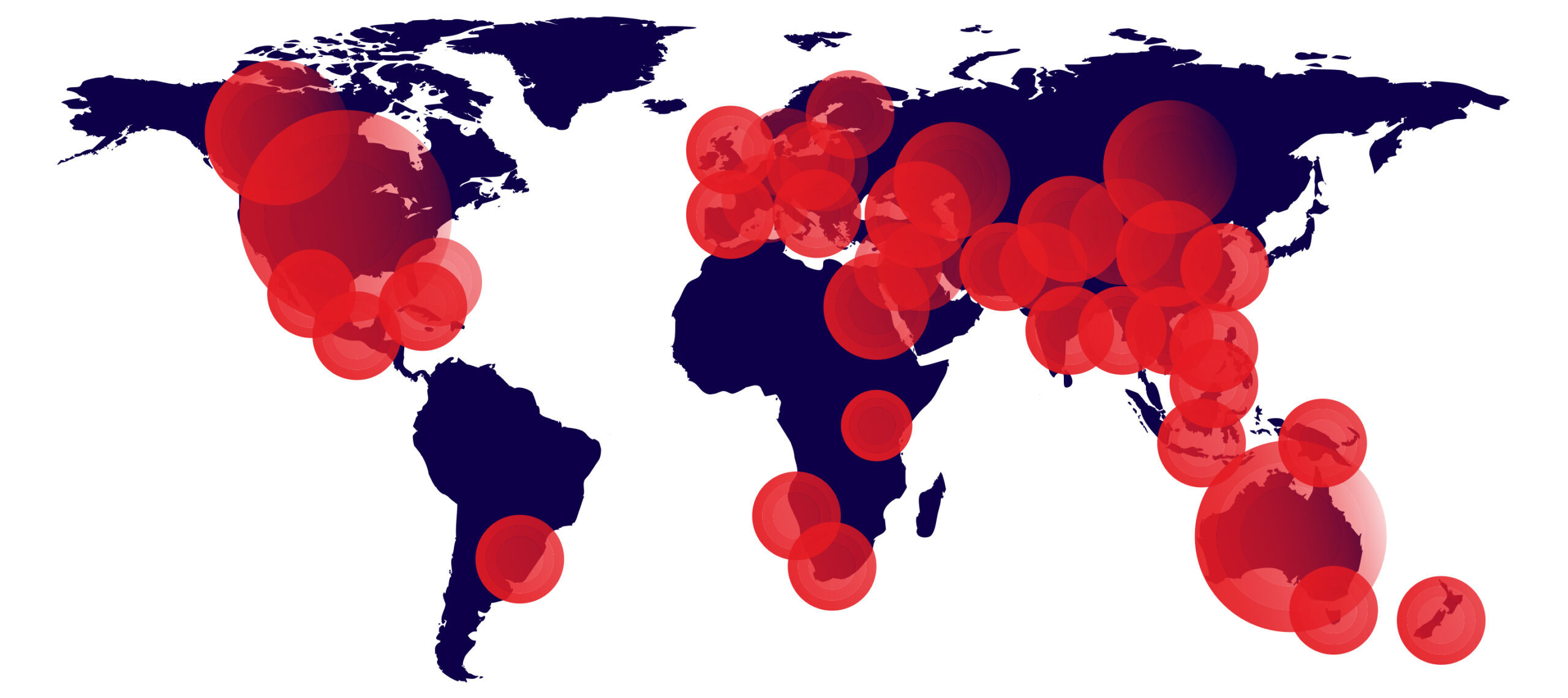 Opening an F45 studio is super exciting and it's comforting knowing that you're investing in an already established and trusted global brand. But, what about if you're the very first studio to open in a new country? You might be introducing the F45 fitness franchise to a market that isn't familiar with the brand or even this type of training style.
How do you influence new consumers and localise F45 to your market?
Not having other F45 studios in the same country to use as leverage takes a whole new level of business navigation, and we have plenty of franchisee's who have tackled this! We are excited to see our fitness franchise continue to grow on a global scale, and see the concept being introduced to new and untapped markets. Now operating in 65 countries, we have our sights set high and are continuing to open in new and existing markets to help franchisees pursue their passion in fitness and help change lives.
Want to know more? Here's the stories of four F45 owners who opened their studios in new countries! We've seen them build the pathways for more F45 studios that have now opened in those areas, establishing the brand, and creating strong brand awareness in these new markets.
Rami Hani Siyam, Studio Owner F45 Al Khobar, Saudi Arabia (opened in 2019):
"I consider myself to be a 'corporate refugee'. I did five years of hardcore consulting and then completely switched up my career to fitness. It's been a very interesting journey! When we were getting close to opening, we didn't have an official licence to open an 'ladies only' studio in Saudi. With the reform that was going on in Saudi Arabia at the time, getting the licence was such an exciting part! We saw the opportunity for an all-women gym and jumped on that wave. The market surprisingly blew up out of the water. In fact, we couldn't keep up with demand at the beginning, we had to keep adding classes! The hunger for something like this was very obvious at that point".
Annelies Van de Walle, Studio Owner F45 Brussels Central Station, Belgium (opened 2020):
"In Belgium there are no premium gym franchises or boutique fitness studios at all. Belgium is the capital so it's the best place to find people from everywhere, like people who travel and even expats in the area. When people saw F45 for the first time, they absolutely loved it. The thing was, that a lot of people had no idea what premium fitness was, so it's not just F45, it's the whole concept. Working in a small community, people are super excited about it, and we are excited to launch the first one here".
Dennis Galinsky, Owner of F45 Munich Obersendling, Germany (opened 2019):
"I think it's going really well, and we believe that the brand speaks for itself. We've had so many people who have heard about F45 or have already been to a studio from somewhere else in the world. Germany is a little behind the trends. Like, in the UK and USA, they are a few years ahead of us in Germany in all industries. In the fitness industry, it's the same thing. There aren't many boutique studios or gym franchises in Munich or Germany yet, so we are really one of the first ones and that's why we decided to keep it all in English- to provide that 'coolness factor'.
I think the scene in Munich helps us a lot with exposure. Being a very international market, large enough and full of people who come from all over the world, so we have the advantage to show this brand to them. We can also show the brand to Germans who went to other countries to work and experienced F45 in other places like Asia, the US, Canada, and the UK. The main part is educating those who haven't experienced F45 yet. We are letting them know what we are all about, why we are a premium service and what kind of service we provide. That's now the part we are facing, teaching that part of the market that hasn't been exposed to F45 yet.
It's been amazing to see the feedback from members, and even those who have come in for a trial. They have come in for a few workouts and tell us that we are the best boutique studio in Munich! It's great, so far everyone that's walked through our studio door, even if they were in the for a single class, leave satisfied"
Mohamed Elaish, Studio Owner F45 Sodic West, Egypt (opened 2021):
"It's been a very exciting journey and I've learnt a lot. It's been challenging launching the first studio in a new country as we had to do a lot of brand awareness to let people know what we were. We are always using the same sentence "what is F45?" and educating people about what we offer as there was nothing like it before here in Egypt, but it's certainly catching on. They digested the brand very well, so well in fact, that we are actually opening another one in a couple of months. We did a lot of research into our market and competitors in the area before launching.
At F45, we aren't just here to change the lives of our members; our scalable business model also helps change the lives of our franchisees looking for gym franchise opportunities! When you buy a F45 franchise, you are investing in a unique business opportunity, driven by quality and convenience"
Are you ready to take a chomp out of the franchising pie? Get in touch!