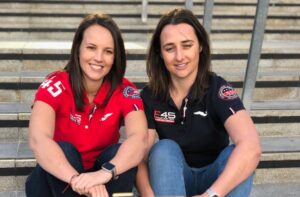 From being one of the first studios to open in London, UK, to now being part of a network with 40+ studios in London alone; Hanri Van Der Merwe and Rene Swart, studio owners of F45 Holloway and F45 Blackhorse Lane have seen the F45 network grow immensely and have seen the brand evolve in not only London, but across the UK and in Europe.
From never owning a business, to now being multi-unit fitness franchise owners- we see this dynamic duo going far with the brand.
Want to know more? Let's take a closer look at their F45 journey.
1) How long have you been an F45 studio owner?

We opened our first studio in February in 2019 and our second studio in 2021, so a little over 3 years. Before F45 we were both accountants and thought there should be more to life than being an accountant, paying bills and not enjoying what you do. We always wanted to do our own thing and get out of the rat race and do something different and become our own bosses. For us, this is far more exciting and rewarding than being in a corporate role. We attended one F45 session, and we were hooked, even after just one session. We didn't know that you could be a business owner, but when we were on the F45 website looking to buy a trial, we saw 'own your own franchise' and that's pretty much how it all started. When we opened, London only had a handful of studios, now there are over 40 in London alone!
2) What made you want to reinvest in an F45 fitness franchise and launch another studio?

We completely fell in love with F45, the brand and the by-product of seeing the difference you can make in people's lives. It's incredibly rewarding. Our first studio, F45 Holloway was growing fast and was becoming very successful, so we decided to go for round two. The F45 fitness franchise model lends itself to reinvestment as you can split the costs over multiple studios and it is highly scalable. When opening our first studio we didn't have leverage off other studios (as there weren't many at that time) and we had a few challenges with opening our first studio. Therefore, we really wanted to 'redeem' ourselves with the second one, and we feel like we did exactly that! The buildout of our second studio was perfect, and it's been great for our 'redemption journey'.
3) Were you a business owner before F45 Training?
No, we are first time business owners! We were both accountants before F45 and working in full time corporate roles. Hanri's family has an entrepreneurial background, owning their own business, so she's very much in that mindset. At the time we discovered F45 we were doing CrossFit and both working in the city. Hanri was invited to F45 Farringdon by a colleague for a lunchtime session and called me straight after and was absolutely buzzing. We knew nothing before it, but the second we did a class, that was it!
4) What is your five-year business goal/plan?
Well, naturally the answer is to own multiple successful, F45 studios. We are aiming to open our next studio in January next year.  We are completely bought into the brand, the fitness franchise concept, and the lifestyle change. We have big future plans, watch this space!
5) What's the most valuable thing you've learnt from being a business owner?

I think for us it's to know there is always a solution and you shouldn't leave any stone unturned. Starting a business isn't easy, but it's also one of the most rewarding things you can do. If there is a challenge, you need to keep pushing forward and find the solution because there is ALWAYS a solution- you just need to find it. Where there is a will there's a way right?! We've always had this motto and we say it daily 'failure is not an option', and that's what we stand for. We will not fail.

Over the years I've seen how much the network has grown and how tight the network has become. This was mainly thanks to Covid. We have become really close, we have each other's phone numbers, and it's nice to feel like you are part of something bigger. It gives you a sense of belonging and community. That's what great about being part of a franchise model instead of a start-up and independent business.
6) What made you choose your studio locations(s)?

We chose our locations to be close to stations as it's all about convenience. We knew that it would have been a big advantage in London to be linked to the city. Our second location is part of a massive development which is great, and our two studios aren't too far from a part which played a big role.

I would say that convenience is the absolute key. If you personally wouldn't travel to that area, then no one else will. Typically, on a London morning when it's raining or snowing in the November or December months you need to ask yourself, would you walk 15 mins to the studio? Possibly not, so again, being close to a rail station or the underground was super important for the convenience aspect. Both our studios are residential, so we have a lot of flats around which hold a great demographic for us.
7) What challenges have you overcome as a business owner?

The biggest challenge we've overcome by far is covid, we were shut over 9 months over the pandemic. Some days we didn't know how we were going to get through the month, but we got through it and pushed forward. That was our biggest challenge. In saying that, if your business is still standing after a pandemic, then you can get through anything!
Feeling some inspo to own your own business? Want to see where F45 Training can take you? Get in touch!